We're home! Yes it's true, we're finally settled into our new home in El Segundo. Of course we're not unpacked quite yet but I've made great strides today getting the kitchen, dining and living room unpacked. Can I just tell you how excited I am to have wood floors and a back yard!!! Of course thank goodness I recently purchased a Swiffer lol. I'm sure it will be the best 12.00 I've spent in quite sometime. I'll post some pics when we have internet in our home which should be sometime tmr. Now onto today's crafty post
It's Tuesday and time for another fabulous Jacksonbelle challenge! This week's challenge is to create a card from the inspiration "You are my Sunshine" It's the end of summer and school has already started in some towns. Create a card with a summer theme using bugs, sunshine, beach themes ot whatever the phrase inspires you to create! Post a link to your creation at the Jacksonbelle
blog
or if you post it at SCS or PCP tag it with JBE068. Here's my summer card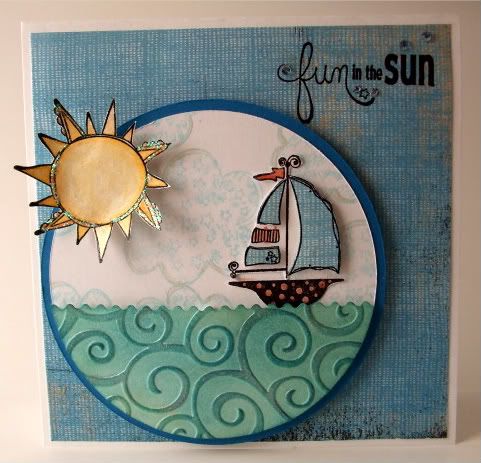 I used Basic Grey paper for this card and Shimmerz on the ocean as well as Stickles on the sun. This week's product showcase at Jacksonbelle is Stickles. I love using stickles on projects!
Be sure and stop by the store this week as new items have arrived from CHA!!!! This just in! Jenni Bowlin mini papers! Check them out
here
I'm still getting settled in my new home and working off DH's laptop but the internet is supposed to be up tmr in my home. YAY!
Thanks for stopping by!